MAC SCREENSHOTS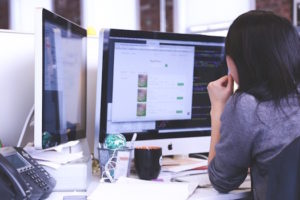 Your Mac comes with some useful tools to take screenshots. Depending on how you would like to use a screenshot, there are three ways to accomplish this.
The most general of the three is to screenshot your entire screen. To do this, hit Command + Shift + 3 and a PNG file of your entire screen will be automatically saved to your desktop.
The second method is the hit Command + Shift + 4. This method brings up a cross-hair snipping tool to take a screenshot of a select area of your screen. Click and drag over the area that you wish to screenshot. Once snapped, a PNG file is created automatically and saved to your desktop.
The third method to take a screenshot is very useful if you need to quickly add a snap to a document or email. Hit Command + Control + Shift + 4 to bring up the same cross-hair snipping tool. Click and drag exactly as you did in method 2. The difference of adding Control to the command combination is that nothing will save to your desktop. Command + Control + Shift + 4 behaves exactly like the Copy command (Command C). Once you have taken your screenshot, click into the body of an email or a document and paste (Command V) what you've just copied.
Read more helpful Tech Tips here!