---

Cellular DAS & Public Safety
---
Improved Cellular Coverage
---
Does your property of 2,000 square feet or more have less-than-perfect cellular coverage? Do your guests, patients, or staff expect to stay connected to data networks at all times? If so, a cellular distributed antenna system (DAS) is the solution. Using DAS, we can provide improved voice and 4G/LTE/5G cell coverage across your entire property.
Example Projects
Distributed Antenna Systems (DAS)
---
Distributed antenna systems (DAS) amplify cellular coverage within buildings and properties, no matter the size. This infrastructure literally distributes cell signal over a system of antennas. If cellular signal is available outside your building, it can be distributed within your building to provide perfect coverage. Why does cellular coverage degrade inside buildings? Materials like metal and concrete block signal, meaning that large buildings with multiple rooms are especially affected. Amplifying cellular signal throughout all nooks and crannies of a property is the only solution to this common problem.
---
Planning For The Future
---
If smart phones are so pervasive now, what can we expect in the next ten years? Surely, cellular and data signal will become even more important, hand-in-hand with our mobile devices. BYOD (bring your own device) is no longer a trend – it's the new normal. As technology improves and data speeds increase, we can bet that smart phones won't ever decrease in popularity. The right DAS infrastructure will ensure that your property is never left behind. Plan for the future now by implementing DAS in your building. It's guaranteed to grow with you, so it's an investment in the future of your business or home.
---
---
Public Safety
---
Many states require large commercial buildings to provide cellular and radio coverage for public safety purposes. No matter the laws in your state, public safety should always be a priority in large buildings. Amplified cellular and radio signal allows firefighters, law enforcement, and medical first responders to do their jobs in the safest possible environment. DAS ensures that their radios will work, so they can communicate with each other and assist people who are in need of lifesaving help. When installing a distributed antenna system in your building or complex, take advantage of cost savings by letting us include a public safety component to your system. That way, you're designing a system that's prepared for the future.
Compliance & Regulation
---
FirstNet is a wireless network that will be created just for first responders. As the first nationwide public safety broadband network, its mission is to provide first responders with the coverage, capacity, security, and quality they need to communicate safely and efficiently. With a for public safety, by public safety approach, FirstNet is changing the first responder communication landscape, and properties will need to keep up with building regulations. Depending on the laws in your state, a distributed antenna system may be required in your property so that first responders can communicate safely.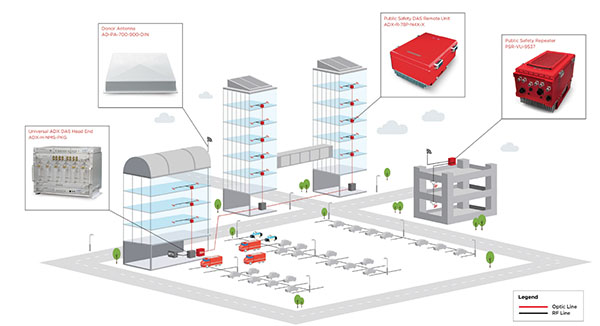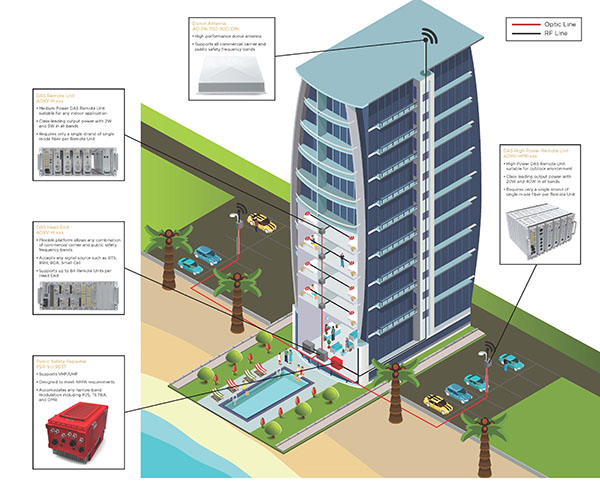 Hospitality & DAS
---
Perfect cellular coverage is now expected, and if you don't offer it, guests may retaliate with negative reviews or seek out the competition on their next stay. Travel bloggers and social media influencers make brands known through their positive experiences, often sharing these experiences over the cellular network. In a time when reviews, likes, and shout-outs are as good as currency, don't take the risk of losing ground to your competitors. Good cellular coverage has become a basic utility, like power, water and wifi. Stay ahead of the rest with a state-of-the-art distributed antenna system.
---
Residential & DAS
---
Do you have problematic cellular signal in your home, ranch or property? Large homes and estates often have patchy signal at best, and no signal at worst. If you and your family want to use your smart phones in all corners of your property, you need a cellular amplification system. Properties as small as 2,000 square feet and as large as you can imagine benefit most from DAS. Even if your home is in a remote location, cellular signal can be amplified, as long as signal is available outside.
Commercial & DAS
---
Stadiums, malls, shopping centers, apartment buildings and office complexes also suffer from cellular signal problems and interruptions. If your commercial property is plagued with patchy cellular signal, it could interrupt your employees' work, or negatively affect your guests' experiences. A distributed antenna system will solve this problem by amplifying available cellular signal across your property.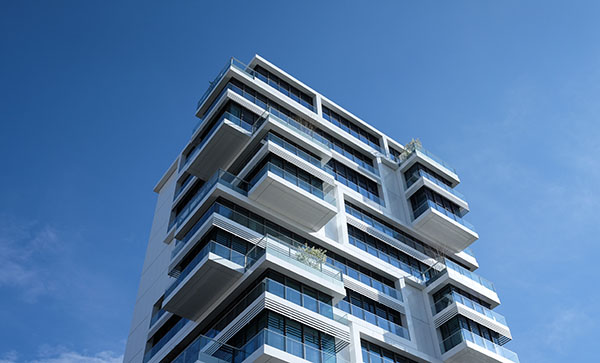 Medical & DAS
---
Hospitals and medical centers are becoming more and more dependent on cellular amplification to promote good communication and charting practices for staff and visitors. Technology keeps advancing, and medical buildings are finding that they need to keep up. Doctors and nurses must be able to be reached on their cell phones in the event of an emergency, and need to be able to take and make calls while inside. Cellular DAS is the perfect solution for this common inconvenience.
GET IN TOUCH
Call Us Today At 855.808.6920
---
Do you have questions about DAS? Would you like more information about how our cellular solutions will work for you? Get in touch with us today. We're confident we can solve your property's cellular signal problems with a distributed antenna system.