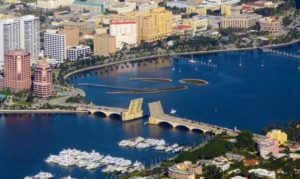 Royal Palm Beach may be inland several miles, but it is still near the Atlantic Coast. The village is home to about 40,000 people. There are 10 top attractions in the village and a total of 79 restaurants. The food you can find and the places of interest here can teach you a lot about Royal Palm Beach. There are communities similar to Palm Beach County, so what sets Royal Palm Beach apart from the others?
Royal Palm Beach Commons Park
Royal Palm Beach Commons Park is one of the top attractions in the village. Reviews say that his park, where a golf course used to be, has wide open spaces and picnic pavilions. You can, of course, expect to find a playground, and there are even water attractions at Royal Palm Beach Commons Park. You can go fishing, kayaking, walk the trails and also play disc golf. Plus, the park is dog-friendly.
At first glance, you might think that the Aerial Trapeze Academy is just for locals taking classes. However, people book birthday parties there and more. What's great about this place is it is for anyone interested in aerial trapeze, and a visit there would make for a remarkable and unique experience. The Aerial Trapeze Academy is located at 13807 40th Street.
Calypso Bay Water Park
Calypso Bay Water Park is located at 151 Lamstein Lane. Adults will love the fact that there is a lazy river. You can also find a pool and a diving board. Even though it is a small water park, you can still have a great time. You know the kids are going to have a blast. When you're not in the lazy river, you can pull up a lounge chair and take it easy while soaking up the sun.
Village Golf Club is where all the golfers go when they are visiting Royal Palm Beach. There are some other excellent golf courses in the county, too, including one designed by Jack Nicklaus. Village Golf Club is located at 122 Country Club Drive. One way to describe this course, based on the reviews, is affordable golf at its finest. People say the practice range there is lovely, as well.
Another park you may want to visit in Royal Palm Beach is Veterans Park. It is located at 1036 Royal Palm Beach Boulevard. This park is a quiet and relaxing place to get away. What's ironic is that this city escape is right in the middle of the town. You can check out the park's Green Market when it's in season, and the park is also a beautiful place to have a family picnic.
Royal Palm Beach is a cute little village with more to do than meets the eye. It is a picturesque place, as is much of Palm Beach County. A vacation in this village and the surrounding area is going to be one to remember. Travel Southeast Florida, and see what memories you make in Royal Palm Beach.
Here are the directions from Royal Palm Beach, Florida to Decypher Technologies Managed Information Technology Services!