2019 Holiday Tech Gift List
Every year, our technicians come up with great recommendations for their favorite holiday tech gifts. Check out what's hot for 2019!
The new Instax Mini 9 Instant Camera is a fun gift for anyone! The Mini 9 is very user-friendly, comes in many colors, has endless accessory options and even features a selfie mirror for the perfect photo every time.
The Qi Wireless Charging Mouse Pad allows you to effortlessly charge any Qi Certified Device (most modern smartphones are certified). In the event that you need to charge a non-Qi Certified Device, USB Micro-B, USB Type-C and Lightning QI adapters are included.
WiFi Smart Plugs make automating your home a breeze. Turn lights, fans, and electronics on from anywhere with your smartphone. You can also schedule the smart plug to switch electronics on or off at specific times, giving the appearance that someone is home while you're on vacation. These plugs even work with Alexa and Google voice control!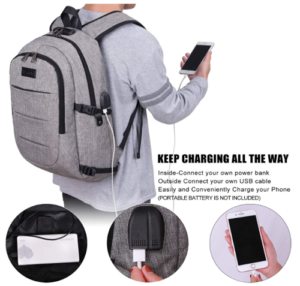 For the techie on the go, this Travel Laptop Backpack is a game changer! Public charging stations are unsafe when it comes to protecting your personal data. This backpack features its own external charging port so you know your privacy is protected while powering up.
These wireless chargers would be great for a home and office gift, now that more and more phones support Qi wireless charging!
Rocketbook Smart Reusable Notebook
is a perfect gift for the eco-conscious person in your life who still likes the pen and paper experience. This notebook can be used endlessly by wiping it clean with a damp cloth and starting again. Write/draw/list, scan to the cloud with the app, wipe clean, repeat!
We hope you enjoyed this year's gift guide, and don't forget to check out our 2018 and 2017 editions for more curated gift ideas. As always, please feel free to let us know if you have any questions or need any assistance at 855.808.6920, or by contacting us. Happy shopping!
December 2019 Edition